Phrazer Spirit
The only purpose built medical CITE Tool

Designed, manufactured and supported in North America to exceed FDA standards. The safest, most secure, most stable, rugged and capable platform - as it should be for the vital and serious medical use cases. Featuring beautiful, human factor design that sets a new standard in quality and ease of use. Phrazer Spirit: all inclusive, market tested and the most awarded.
---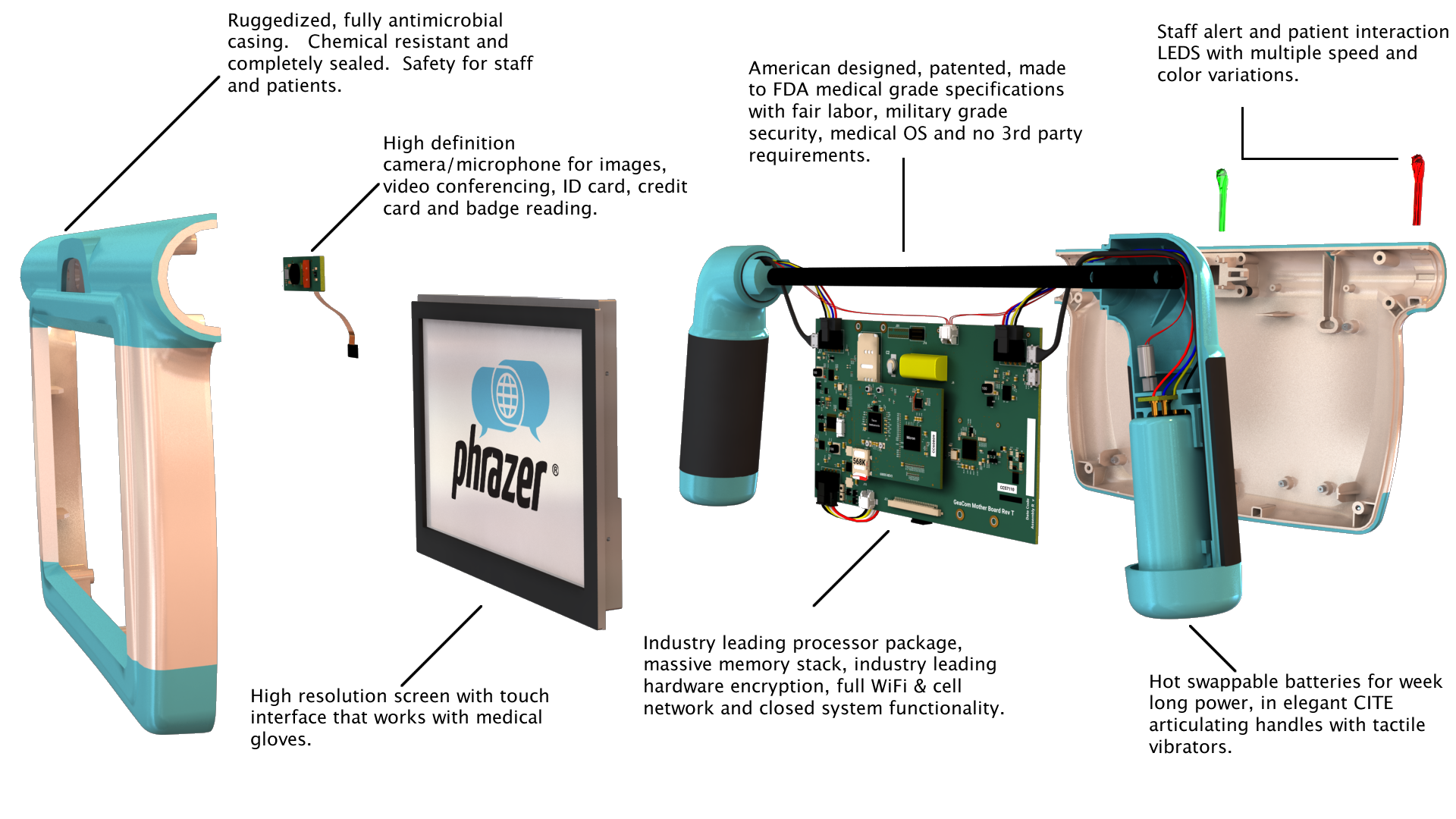 Phrazer Features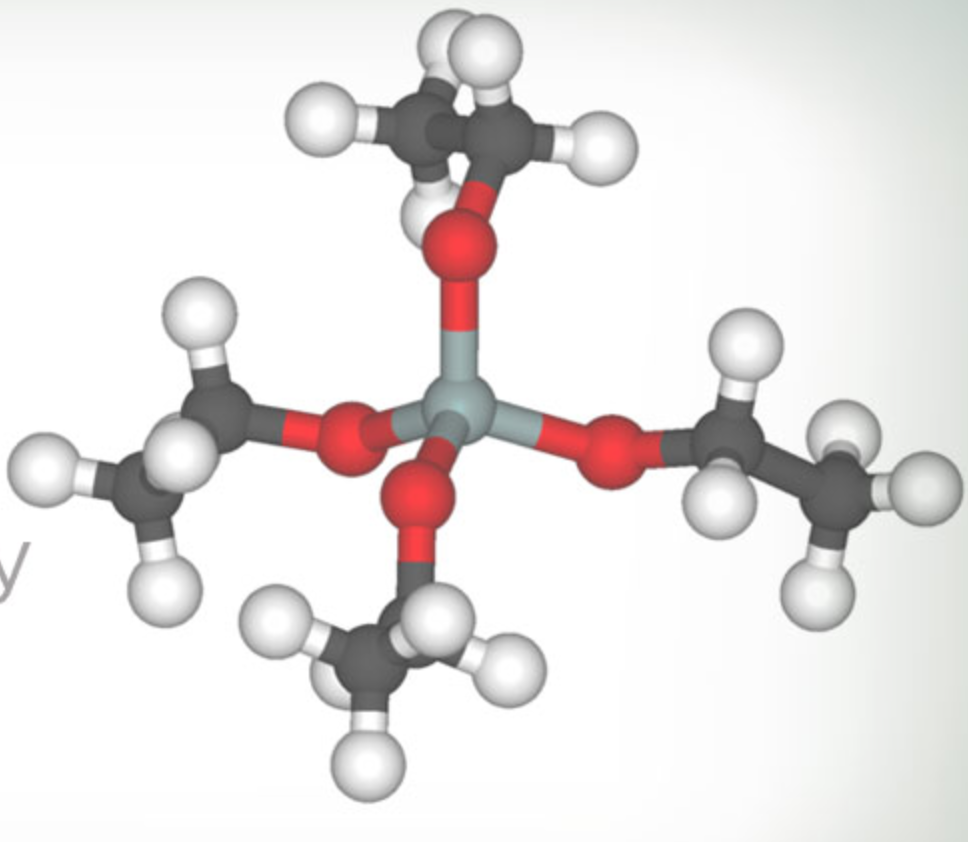 Medical Safety and Security Protect against the spread of MRSA, HIV and other harmful bacteria and diseases. Safety of your staff and patients is vital. Phrazer incorporates a novel mechanical antimicrobial / antiviral into its casing. 100% of bacteria and fungus is mechanically killed on contact. A wide spectrum of viruses are also killed on contact. The special integrated protection doesn't wear off or loose strength over time. Unlike consumer products Phrazer is intrinsically safe, meaning that not ignition temperatures or sparks are generated so it is safe for use near oxygen or other combustable gasses.
---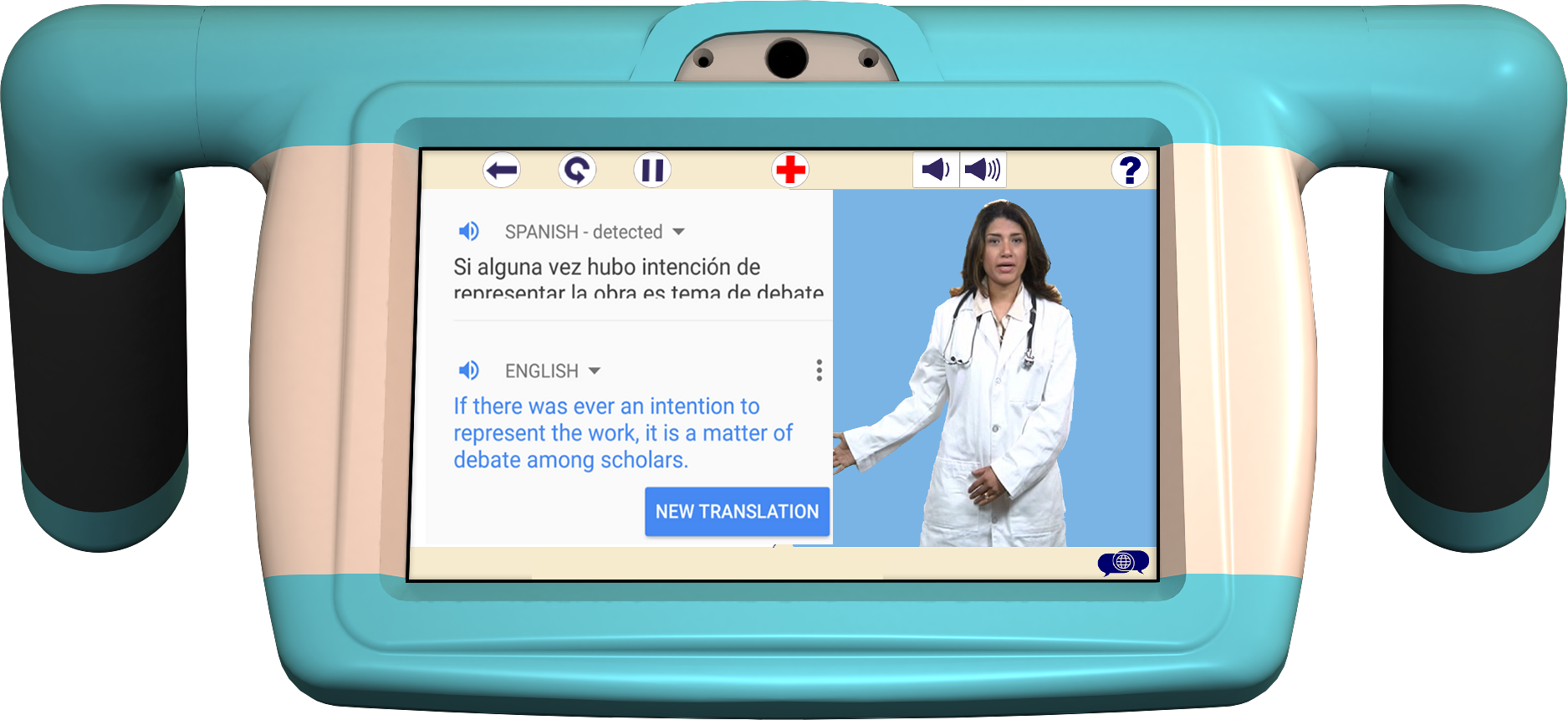 Affordable, extreme innovation Special design for rapid CITE protocol development enables rapid, low cost innovation. Patient education, interpretation, EMR record entry, surveys, shared decision making and more are onboard. Phrazer has more than 1TB of memory to enable all of your workflows and CITE protocols onboard (no need for extensive network connectivity build-out). Phrazer is also pre-configured with EMR connectivity for all major suppliers. Phrazer "bring up" takes only a few hours and the benefits are realized. No special infrastructure, modifications or support is needed. Patients require zero training, staff is able to become proficient in a day and I.T. services are able to effectively manage the system immediately.
---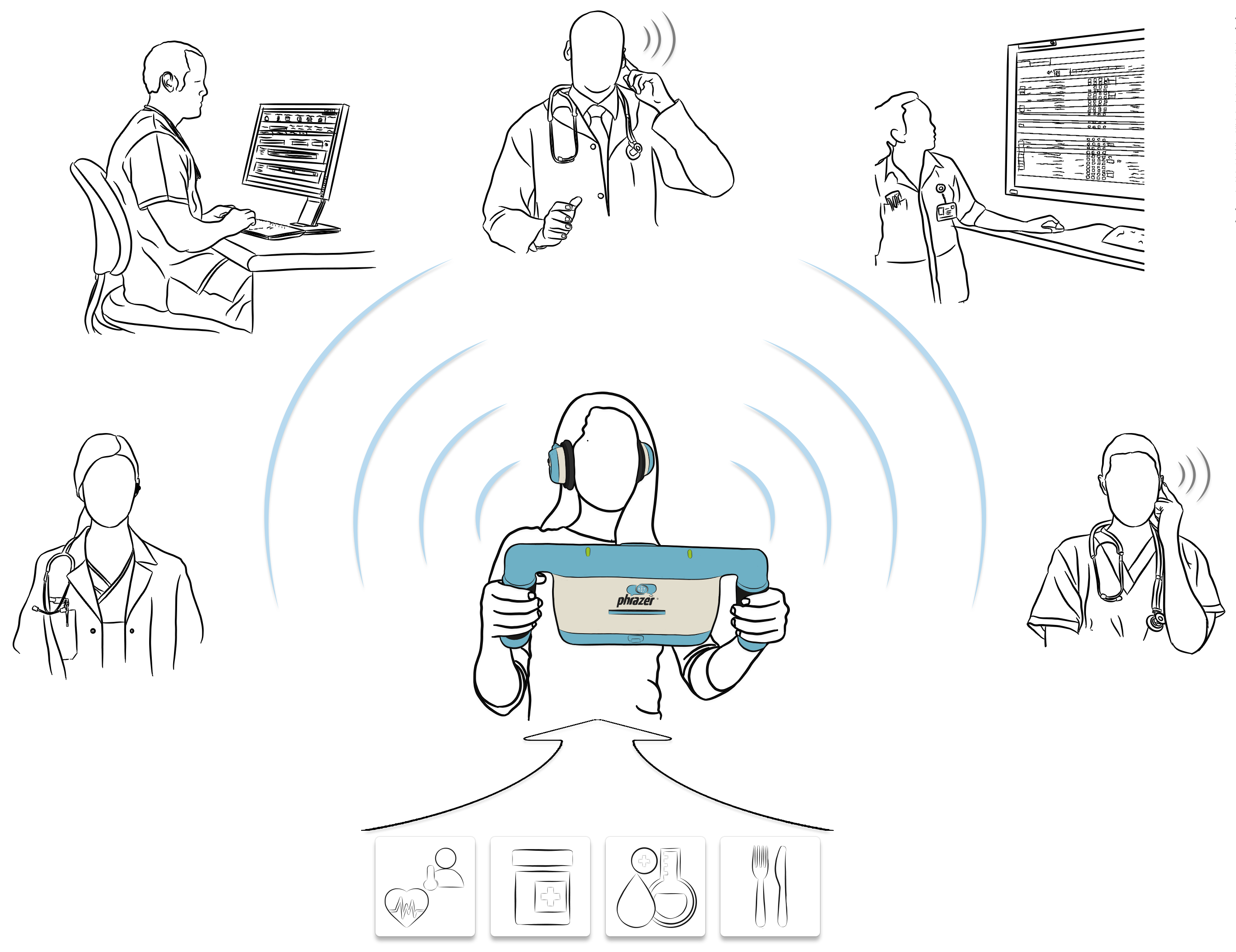 One of a kind technology Muti-path Realtime Messaging (MRM) is key to the total improvement to provided care without significant infrastructure and staff changes.. Special patented technology in Phrazer's hardware and software allow staff and patients to remain in constant contact with exchange of vital information.
---
The experience in mind With a Phrazer, a patient is never alone; they are always in constant contact with the caregivers and medical system. With Phrazer in their hands a patient is always advancing their care, authoring their own record and getting the best possible bedside manner. With Phrazer in your system, staff is always working at top of licensure, always aware of proper procedure and they truly get to know their patients. With Phrazer, staff gets back to the bedside and back to what drew them to healthcare in the first place.
TAB 1 CONTENT
Phrazer Spirit is designed to be the ultimate CITE Method platform for medical use. It is made to be an essential bridge between the needs of the patient and the requirements of staff and care. Phrazer Spirit is not meant to be autonomous but rather an essential link to be provided by staff, for patients and effective outcomes. Phrazer Spirit itself has Communication Theory based design elements integral to its size, shape, color and overall form factor. Physical design for 'hand off', hand held, in bed held and table top use make for easy, safe and secure implementation. Internal to Phrazer Spirit are industrial and medical grade componentry to support a vast array of innovative technology needs. The intrinsically safe design is made for use near flammable gases and sensitive immune systems. The highly secure and never hacked OS is focused on privacy that protect patients and the enterprise. A novel and strong antimicrobial with antiviral properties is integrated to protect staff, patients and the community.
TAB 2 CONTENT
| | |
| --- | --- |
| Case: | High Impact Polycarbonate • Embedded Antimicrobial • Chemical Resistant |
| Dimensions: | W 375mm x H 155mm x D 35mm • 1.34 kg |
| Power System | 2 3200mAh Hot Swappable • 40+ hr capacity • 3200mAH Internal • 110v |
| Photo / Video: | 13.0 Megapixel Images and Video • 60fps full color • Hi-Fi Microphone |
| Connectivity: | Wi-Fi 802.11a,b,g,n,ac 2.4 and 5 GHz • Bluetooth 4.1 • GSM and CDMA HSPA+ • GPS |
| Memory: | Up to 1.5 Terabytes SSD • 3GB LPDDR4 • 32 GB UFS Flash |
| Industrial Display: | Industrial Anti-Glare Glass • Active 152.4mm x 91.4mm • 100,000+hr Lifetime • Hi-Bright |
| Environmental: | RoHS Compliant • Operating Temp -10˚ to 50˚ C • Meets or Exceeds all UL Requirements |
| OS and Compatibility: | Phrazer Military Grade OS • OHA Compatible • Phrazer Developer API |
TAB 3 CONTENT
COMMENT 1

COMMENT 2

COMMENT 3

COMMENT 4
---
Request A Document
Top