Modern Method Benefits
Lower overhead • Improved performance • Revenue

When patients are added as Full Time Equivalency participants who author their own charts accurately and effectively, the financial benefits are tremendous.
When staff doesn't spend time on data entry, translators, paper and point solutions you get their top of licensure performance and unparalleled health outcomes.
---
High Level View
Cost Reduction A single, purpose built, secure/safe platform that charts, registers, surveys, educates, entertains and more eliminates the need for multiple point solutions. A platform that engages your staff simultaneous to the patient and guides on process, policy and procedure, improves performance while eliminating much of the staff education costs. A platform that on-boards, discharges and transfers patients without delay keeps an efficient flow even when things would normally become chaotic. Phrazer performs these services and more at about 20 cents per hour.
---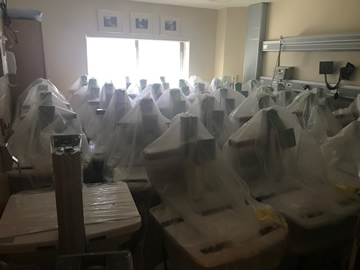 Found Money Many reimbursable services are too challenging to regularly operationalize. Many reimbursable activities that do actually get performed are not properly charted and get down-coded. Community health initiatives often are not employed and revenue is left behind. Phrazer/Kitsune performs reimbursable services in what is formerly down-time. In performing reimbursable activities, Phrazer/Kitsune fully charts, involves staff and assures the highest proper coding every time. A fine example is SBIRT that Phrazer performs automatically in all languages and averages over $100/patient reimbursement. A medium sized department can realize more than $5M in "found money" revenue from Phrazer.
---
Performance Improvement The most difficult and expensive variable in healthcare is the patient. Conventionally method doesn't normalize this variable. Patients who are difficult to communicate with, need more specialized education, are challenged with literacy or other prevalent attributes, result in extended and inefficient flow. With Phrazer/Kitsune the patient variable is addressed with complete continuity and quality. When engaging, any language, literacy, race, culture and gender are more efficiently and effectively served. Patient throughput with Phrazer/Kitsune has shown to improve by as much as 10x without additional staff or resources.
---
Frozen Opportunities When staff isn't spending over 40% of their time charting and there is more predictability of flow then there is back-to-the-bedside opportunities. With time, continuity, reduced cost and improved revenue, may initiatives previously out of reach can now be taken on with success. Phrazer helps operationalize, reinforce initiatives with staff and hold accountable results.
---
---
Top