Phrazer Kitsune
The Convertible CITE Wearable

Designed, manufactured and supported in North America to exceed FDA standards. Safe, secure, stable, rugged and capable platform - as it should be for the vital medical use cases. Featuring human factor design that sets a new standard in quality and ease of use. Phrazer Kitsune: all inclusive, market tested and the most awarded.
---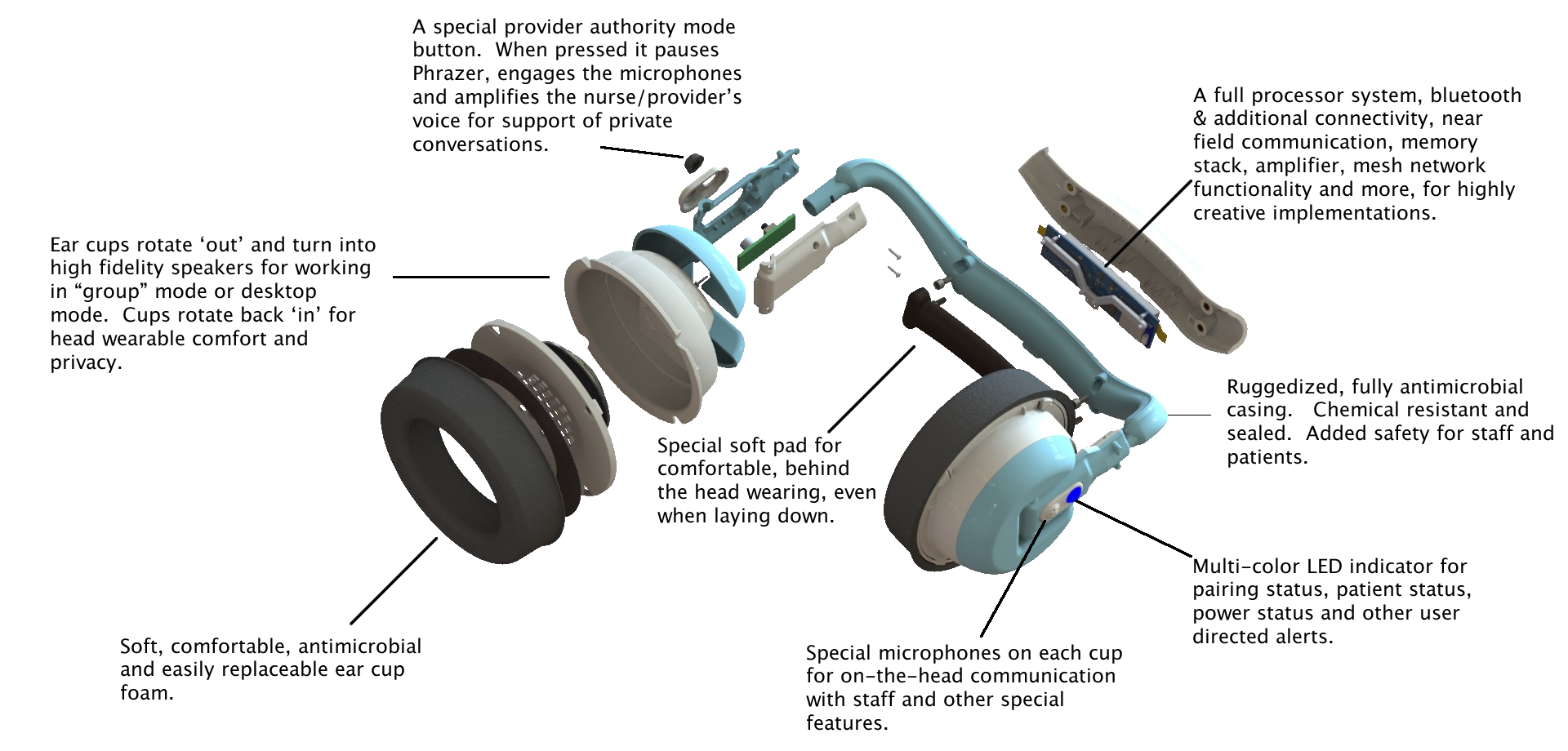 Kitsune - Shapeshifting Excellence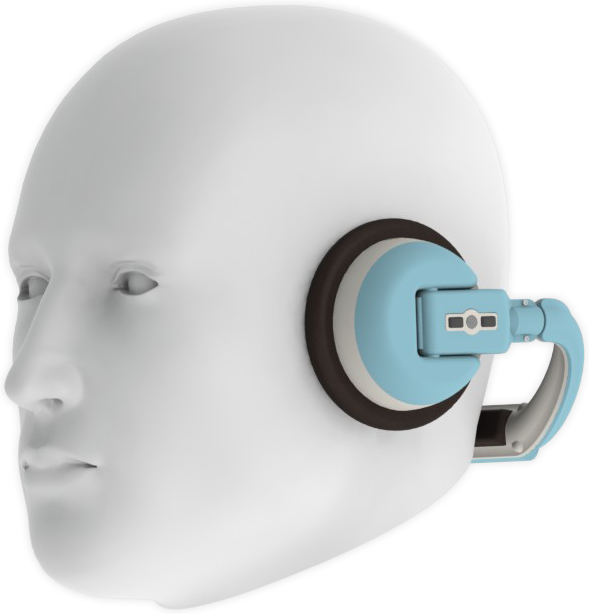 Kitsune works as a private noise cancelling medical headset, as high quality speakers for working with groups and as an authority enhancing medical engagement tool. As a wearable headset Kitsune eliminates external sounds and allows totally private interactions with Phrazer even in busy and noisy spaces. The comfortable human factor design has soft comfortable ear-cups that are quickly replaced after each use (ear foam is cleaned and re-used). The back band wraps around the nape of the neck for comfort when sitting or when laying in bed.
By rotating the ear-cups outward, the snap into place and become HiFi speakers ready and able to work with groups such as patient's family or multiple patients. Group mode is also useful when using the Phrazer Entertainment Portal (PEPs). Group mode is also useful at the nurses station for receiving updates from multiple patients to staff or for video conferencing with patients and providers.
Located on the left ear-cup is a button that caregivers can press to pause Phrazer interactions and enable the external sound microphones on each cup. In this mode the patient is able to clearly and specifically hear the voice of the staff. In a noisy room this feature also isolates the staff voice so communication is private and clear even at a whisper.
Kitsune's Near Field interactions are used to track the patient's location, to log the presence of staff in the room and to make pairing with Phrazer a simple matter of touching them together. Kitsune only works with Phrazer and can not be activated without the Crypto Magnetic Key.
TAB 1 CONTENT
Kitsune is safe, antimicrobial and easy to use. No training is needed to unlock the power of this dynamic solution. Patients love the comfort, flexibility and convenience of Kitsune.
TAB 2 CONTENT
Case:
High Impact Polycarbonate • Embedded Antimicrobial • Chemical Resistant
Bluetooth:
Bluetooth 4.2, Class 2
Dual Mode: Bluetooth and Bluetooth Low Energy
Frequency Bands: 2,402 MHz to 2480 MHz
Operating Range: Maximum 20m to 30m
Output Power: Class 2 (BER/EDR) up to +4 dBm, BLE up to +10 dBm
Bluetooth Profiles Supported: A2DP, AVRCP
Near Field Communication:
13.56 MHz RFID Reader/Writer
Compliant with ISO/IEC 14443 A And B NFC Forum Device Types 1-4
Output Power +20 dBm (100mW) at 10cm
Functionality Pending Development
Run Time:
Loudspeaker Mode: 8hrs
Headset Mode: 18hrs
Idle: 24hrs
Audio:
Group Mode: Mono, Output Power up to 1W
Headset Mode: Stereo
Output Power: Up to 125mW
Environmental Hearing Mode: Stereo
Speaker Output Range: 400 Hz to 9000 Hz
Speaker Sensitivity: 90 dBA SPL at 10cm
Certifications:
Bluetooth: 4.2 Audio Module - SIG Certified
Modular approval: FCC and IC (Canada) - BT
Compliant: Part 15 of the FCC
Processor:
2.4 GHz
Memory:
92 GB NAND
TAB 3 CONTENT
Top